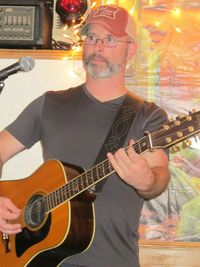 Hugh Cline is the guitar player, songwriter and vocalist for Magnolia Drawl.  He joined The Mary White band in 2000 and was a founding member of Magnolia Drawl along with Mary White, Shellie Dorman, Dave Patt and now Paul Jacques.   His style of guitar playing and vocal harmonies is a large part of the band's sound and style and he is responsible for the alternative arrangements of some of their more popular cover songs.   Hugh's diverse selection of songs include classic country, new country, show tunes, soft rock and some good old rock 'n roll.  He will capture your attention with his renditions of songs from Johnny Cash to Chris Stapleton to the soundtrack from "Grease" and his classic version of "Sweet Caroline" will keep you coming back for more.  Hugh is half of the writing duo of Coker/Cline of which two of their songs, "Mama Was a Hooker" and "Must've Been Him", are featured on the debut CD by Magnolia Drawl titled Try A Little Harder.
Hugh grew up on the East Coast and move from Princeton, NJ to Los Angeles in 1982 to pursue his musical career and began performing and touring with several bands, working with numerous songwriters of all different genres and has had the opportunity to perform in all of the notable clubs and venues in the Los Angeles. As half of the songwriting duo of Coker/Cline (Brett Coker & Hugh Cline), their songs have charted in the European Country Music Association, been featured in movies such as "Kiss the Bride" (starring Tori Spelling), been recorded by Jussie Smallet (Empire/Fox) and received awards from national and international competitions.  Hugh has had the great opportunity to work with Cory Wells of Three Dog Night, Will Ray of the Hellecasters, local LA artists Aynee Osborn, Laura Burgo, Robert Heft and many, many more. He has been on stage all of his life in some compacity between theater, film or bands and besides his musical work has produced and directed live performances of theatrical plays, solo artists, large scale choirs and short films that have appeared in film festivals.  To say that Hugh Cline is talented is an understatement.
Hugh has had the fortunate opportunity to join Mary White in entertaining our troops as part of the United States Armed Forces MWR program touring international venues such as South Korea and Guantanamo Bay, Cuba.  Hugh currently resides in the Los Angeles area where you can see him performing regularly as part of Magnolia Drawl.  He is a born entertainer and his passion for his craft will come out loud and clear during his performances.  So, don't miss a chance to come out and see him perform in person at a venue near you!